______________________________________________________________________________________
Will we ever… live in underground homes?
(2015 April 21: http://www.bbc.com/future/story/20150421-will-we-ever-live-underground)
By Kieran Nash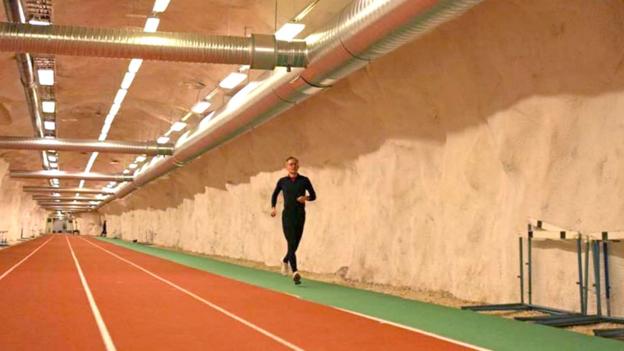 A running track underneath Helsinki in Finland (Credit: City of Helsinki)
As cities get more crowded, why not build down? Kieran Nash profiles some of the world's most unusual underground constructions, from Australian rock homes to Beijing's subterranean spaces. In many respects, Bernadette Roberts' three-bedroom house is like any other. "Lounge, dining area, kitchen – it's got all the mod cons. It's like a normal home." Only it's not a normal home – Roberts lives underground. She's a resident of Coober Pedy, a tiny town 846km north of Adelaide, South Australia, that is known for two things: its opal mines, and its "dugouts" – subterranean homes carved from the rock, which house 80% of the town's population. Coober Pedy is an inhospitable place, where temperatures can reach 50C. A century ago, miners realised it was much cooler to live beneath ground, and the town's residents have stayed there ever since.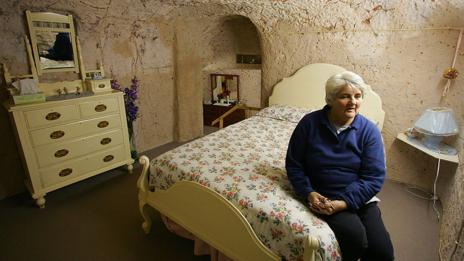 A subterranean bedroom in Coober Pedy (Credit: Torsten Blackwood/AFP/Getty)
Roberts says "on a good day", when temperatures outside are in the high 30s or low 40s, the temperature in her dugout is around 23 to 25C. "It's like you've walked into an air-conditioned room." While extreme weather has forced Coober Pedy's residents underground, it's not the only place on Earth where authorities are looking beneath the surface for new urban space. With two-thirds of the world's population expected to live in cities by 2050, urban land is expected to become an increasingly limited resource. Many cities – due to space constraints, heritage areas, or other factors – cannot build up, or out. But what about down?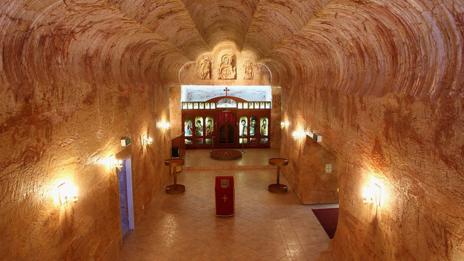 An underground church in the opal mining town of Coober Pedy in Australia (Credit:Quinn Rooney/Getty)
Consider the case of Singapore, one of the most crowded countries on the planet. Its population of nearly 5.5 million people is squeezed into a city state that covers just 710 sq km. "For Singapore, the main thrust for going underground is really to solve the land shortage issue," says Singapore-based Zhou Yingxin of the Associated Research Centers for the Urban Underground Space, a non-governmental organisation of experts who design and analyse cities' subterranean spaces. "Traditionally, we've tried to reclaim land by digging up the sea and buying sand, but that is becoming less and less viable – the sea is getting deeper, we're getting to the boundaries, the sand is getting more expensive, our neighbours are complaining and all that." So, one plan currently on the table is an Underground Science City (USC). Designed to house a 300,000 sq m research and development facility 30-80m below the surface, the USC will support biomedical and biochemistry industries, among others. If completed, it is estimated to house a working population of 4,200.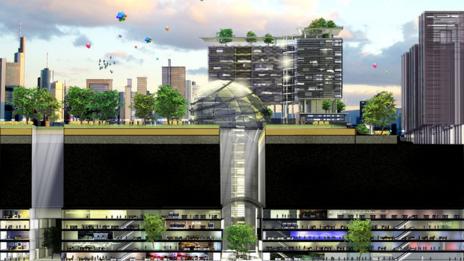 A design for Singapore's Underground Science City (Credit: JTC Corporation)
In other cases, land is scarce because of heritage restraints. In Mexico City, for instance, there are strict building restrictions in its historic centre. That's why architecture firm BNKR Arquitectura has designed a massive, 300m-deep inverted pyramid dubbed the Earthscraper. The proposed building would house 5,000 people, with terraced floors receiving natural light from a huge glass ceiling above – although the lower floors will need extra lighting with fibre optics.
BNKR founding partner and CEO Esteban Suarez hopes the Earthscraper will inspire a new "species" of building.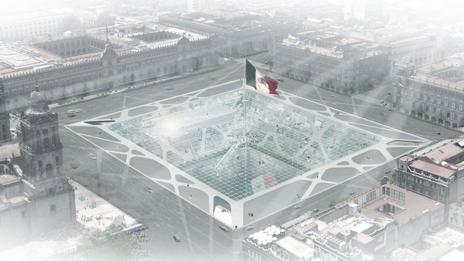 The proposed Earthscraper in Mexico City (Credit: BNKR Arquitectura)
Meanwhile, in China, demand for affordable housing in Beijing is forcing people to move below the surface in less glamorous conditions. Annette Kim, director of the University of Southern California's Spatial Analysis Lab, spent almost a year in China's capital from 2013 to 2014 studying the conditions for those living in the city's underground housing – a mixture of former bomb shelters and common basements repurposed to act as small dorm room units. "There's a big range in housing conditions. I envisioned horrible squalor – and there are places that are terrible – but what was surprising is there were also places there that were really nice, relative to Beijing standards."
Millions
So how many people live underground in Beijing? Kim says official estimates vary between 150,000 and two million. "As a shorthand, I just say one million. It's pretty incredible." Kim says that two factors have led to this situation – China's huge building boom, which has created an increased supply of underground space, and a shortage of affordable housing. In recent years, a huge number of rural workers looking for better jobs have come to Beijing, but many do not have an official residency permit, making them ineligible for the housing available to Beijingers above ground. The only flats they can afford are subterranean spaces offered in the expensive private housing market.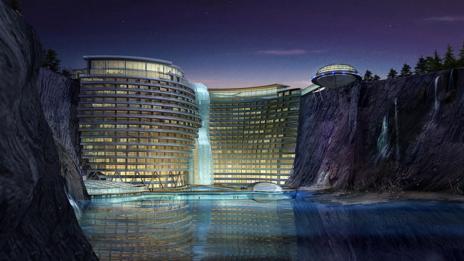 The Shimao Wonderland Intercontinental hotel, in Songjiang, Shanghai (Credit: Atkins)
About 1,000km south of Beijing, developers are exploring a totally different use of underground space with the Shimao Wonderland Intercontinental – a 300-bedroom hotel currently being built into the rock face of a disused, 90m-deep quarry 35km south-west of Shanghai. Martin Jochman, a design director responsible for the hotel's concept and scheme design, says that while the quarry makes for an attractive landscape, many people thought it unusable. "It's extremely difficult because everything is upside down. Things like water and sewage have to be pumped up rather than going down. It's like a building that goes down rather than up." But there are benefits. The topography of the quarry creates a microclimate – the rock draws in heat over summer, slowly releasing it like a storage radiator in winter.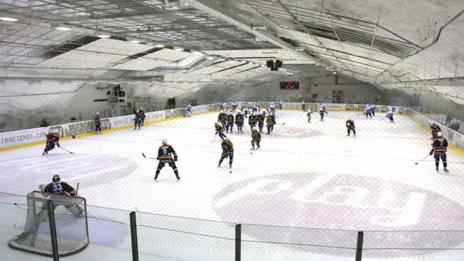 Helsinki's underground Hartwaal Arena (Credit: City of Helsinki)
Temperature is also a factor in Helsinki, Finland, where authorities have built nine million cubic metres of facilities under the city – including shops, a running track, ice-hockey rink and swimming pool. Lead designer of the city's underground master plan, Eija Kivilaakso, says conditions underground are often more favourable than those above, especially in winter, when surface temperatures can drop below -20C. "With the weather in Helsinki, it's nice to work or get coffee underground – we don't have to go out in the rain or the cold."
Dark fears
It's technically possible to build underground living spaces for people. But are we willing to spend long periods of time in subterranean dwellings? The success of building proposals like Mexico City's Earthscraper might depend on helping people overcome fears associated with the underground. "The human mind is naturally predisposed to fear underground spaces, which it associates with dark, small, cavernous environments and a danger of being buried alive," says Suarez. 
But by connecting all areas of the Earthscraper to a large, central, open space that receives light from above, Suarez hopes to change people's perception of the underground – he likens it to an open canyon.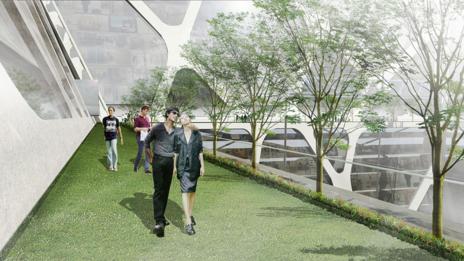 The Earthscraper has been designed so that people don't feel claustrophobic (Credit: BNKR Architectura)
For a small percentage of people, the mere thought of being underground in a confined space can be terrifying. Gunnar D Jenssen, who researches underground psychology and space design for Scandinavian research organisation SINTEF has found about 3% of people are severely claustrophobic – not having a clear way out or being fearful of flooding or fires can cause a lot of stress. But there are some way to counter their fears. "If you give these people something that gives them perceived control over the situation, they accept being in it. That is the key. Transferring that into architecture, into design is the line of work we've been following. "The basic things you have to have there is clean air, you have to have the space, it has to be spacious or perceived [to be] spacious. You can use illusions but the best is if it really is spacious and [has] good lighting." Jenssen has worked on four of the longest road tunnels in the world. To create the illusion of space, within the tunnel he creates well-lit oases with palm trees and illusions of the sky along the route. "You go through a dark tunnel and all of a sudden you're coming out into a bright lit space with trees and plants. "You have a feeling of breathing space, a feeling of being outside, even though you're 1,000 metres underground going through a mountain."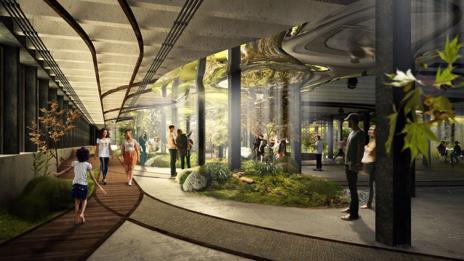 A design for New York City's Lowline, an underground park (Credit: Raad studio)
Using illusions and design tricks to make ourselves more comfortable underground is one thing, but if we were to live underground, would we suffer adverse effects from a lack of sunlight? Lawrence Palinkas, from the University of Southern California, says a lack of sunlight can cause difficulty with sleep, mood and hormone function which can produce chronic diseases of different varieties. But, "timing and routine exposure to bright light that can mimic the properties of sunlight might enable people to live underground for long periods of time".
Temporary abode
So, technically, we can live underground. But will we? Annette Kim, having seen first-hand the effects of Beijing's housing demands, thinks we might. "If we continue to have this rapid urbanisation and people want to come to the big cities, we're going to have to, yes." She says it also depends on how the space is used: "A lot of these people are going there to sleep at night. It's not as if it's my 'home sweet home' to hang out in – they enjoy the public spaces above ground to be in the sunlight and air."
Li Huanqing, a research fellow at Nanyang Technological University who made underground urbanisation the focus of her doctoral thesis, says most cities are not planning underground houses, but multifunctional underground spaces that will be occupied by shopping malls and public thoroughfares to free up more surface land for housing, green space and recreation. Zhou says this makes sense. "There's no reason why people cannot live underground," he says, but "there are a lot of things you can put underground first".
________________________________________________________________________________________
The weird afterlife of the world's subterranean 'ghost stations'
(2014 September 25: http://www.theguardian.com/cities/2014/sep/25/-sp-world-subterranean-ghost-stations-tube-abandoned-underground) 
With plans afoot to transform disused London tube stations into tourist attractions, Drew Reed digs into how they get abandoned in the first place … and what could become of them in the future.
In 1920, construction began on what was to become an important new transportation system for Cincinnati, Ohio. Local voters had given near-unanimous support to a $6m (£3.7m) municipal bond, and despite wartime restrictions and shortages, the project began. Little did the city's officials know that the system they were building would never carry a single passenger. 
Five years later, the money had run out, the federal government refused to help and construction was halted. Today, there is an entire six-mile subway system abandoned underneath the Cincinnati streets.
Though Cincinnati's empty subway is an extreme example, it's part of a global phenomenon that's actually quite common. Underground travel has become a familiar routine for millions of urban dwellers, but most commuters are unaware that lurking on the other side of the walls are the remains of abandoned stations, slowly deteriorating. Known as "ghost stations", they are silent but powerful reminders of forgotten history.
Tom Moran, editor of the website Urban Ghosts and an expert on abandoned stations, says: "For me, what makes abandoned subways more compelling than other subterranean infrastructure is the fact that they were built to cater for large crowds of people – unlike sewers and utility tunnels – and thus contain all the necessary features of a public space, from fire escapes to ornate signage and advertising on the walls. It's that missing human element that makes them more eerie."
In the west, many stations were abandoned due to the boom and bust cycles of capitalist markets; in former or current communist countries, ghost stations are symbols of the excesses of authoritarianism. But their histories remain local. Though no longer part of the daily lives of people, each abandoned station is firmly rooted in its city's past – and may yet become part of their city's future.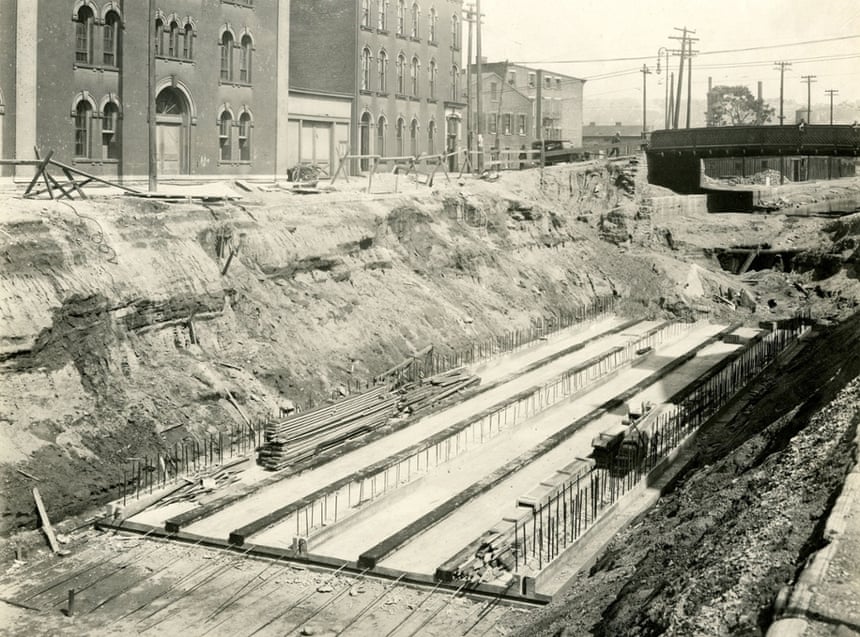 Cincinnati's subway system under construction in the 1920s. The entire six-mile system remains in place but has never been used for public transportation. Photograph: Cincinnati Museum Centre/Getty Images
If there is a global capital of ghost stations, it would have to be London, which boasts more than 40. These include North End Station on the Northern Line, which was never used following its completion in 1906, and also many other stations that were closed due to poor user numbers, notably Aldwych on the disused Piccadilly branch line. Urban explorer Bradley Garrett made headlines in 2012 when he was arrested by London transport police for exploring the station. He received a conditional discharge.
Advertisement
London's transport authority is now planning to sell off some of the disused stations to companies who have plans to turn them into tourist attractions, hotels, shops and museums, according to a report. One estimate places the abandoned network's value at £3.6bn.
Tom Moran's favourite London ghost station is in fact an abandoned lift passageway at the much-used Notting Hill Gate tube station. "When it was discovered during construction work several years ago, workers found vintage posters that had effectively been cocooned there since the lift shafts were sealed off in the 1950s," he says. "You could argue that it's not the most compelling find ever, but for me it symbolises the very essence of the tube's forgotten corners, where relics from other eras live on."
Apart from London, perhaps the best-known city in western Europe for ghost stations is Paris. Several were closed during the second world war, while others, such as Haxo and Porte Molitor, were built during the rapid expansion of the Paris Métro in the 1920s but never opened. Another concentration of ghost stations can be found in Barcelona, whose Banco station is reputed to have been designed, not for the public, but as a secret delivery system to the Bank of Spain. Gaudi station, named after Spain's celebrated architect and intended to serve the Sagrada Familia cathedral, was similarly never opened. Today it is known for numerous reports of ghost sightings.
Across the Atlantic, the subways of the US faced a formidable foe: the freeway. As car use skyrocketed after the war, subway systems became less popular, and underground stations began to close down. In denser eastern US cities, most rapid transit systems survived, but individual stations were closed, such as Franklin Square in Philadelphia. Yet, not all eastern systems survived:Rochester's subway was completely closed, like Cincinnati's. In Chicago, parts of the elevated train network were abandoned due to lack of maintenance funds. But the biggest casualties were on the west coast. San Francisco's underground Eureka station was closed permanently, as was the underground hub of Los Angeles's Red Car system.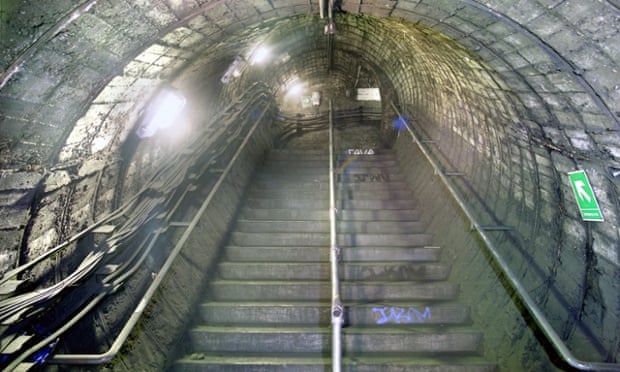 North End underground station near Hampstead Heath in London has never been used. Photograph: Nick Catford/Subterranea Britannica
New York, not surprisingly, has quite a few ghost stations; the most famous one, City Hall on the Lexington Avenue line, was closed in 1945 because retrofitting it to serve newer trains was considered too expensive. Another station, South 4th Street in Brooklyn, never saw service after funding for the rest of its line was cut. Unlike their European counterparts, American ghost stations stand out for their unassuming pragmatism. The abandoned stations in Rochester, for example, have a distinctly utilitarian feel.
Although other countries on the American continent may not have embraced the automobile as enthusiastically as the US, they're still home to a number of ghost stations. Toronto's Lower Bay station was closed in 1966, allegedly due to an overly complicated track arrangement. There is also a small concentration of ghost stations in Latin America: Buenos Aires's San Jose station was abandoned when one of the city's subway lines was rerouted to the city centre in an effort to attract more users. And in Santiago, several metro stations were closed as a result of a massive earthquake in 1985.
In these capitalist countries, where one generation's crisis is the next generation's tourist trap, many of the stations have been repurposed. London's Aldwych station has become a favourite for movie shoots, while Toronto's Lower Bay has become a location for parties during the city's huge film festival. Cincinnati's abandoned subway line is occasionally opened for visits, and South 4th Street became a kind of gallery for Brooklyn street artists.
Crisis also spawned the ghost stations of the former Soviet bloc – created not by market fluctuations but overbearing authoritarian rulers. Berlin's U-Bahn was a particularly noteworthy example. Though all the city's stations are open today, during the Cold War a number of stations on lines that crossed through east Berlin were closed, sealed, and monitored by armed guards – who occasionally tried to escape to the west by jumping onto moving trains. These stations were poorly maintained yet seen by passengers daily, an eerie phenomenon that, in fact, gave rise to the term "ghost station". With the fall of the Berlin Wall in 1989, all 16 Berlin ghost stations resumed service.
In Moscow, construction of Spartak station was completed in 1975, but when the housing complex it was supposed to serve was abruptly cancelled, the station sat unused. It has reopened this year to serve the new Spartak Moscow football stadium.
Perhaps the most famous disused subway in Moscow is the Metro 2, a top-secret, parallel subway system reported to have been constructed in the 1940s for the emergency transportation of Communist party top brass. Many doubt it exists, and there are no photos of its lines or stations, but many top Russian officials, as well as a US intelligence report from 1991, have attested to its existence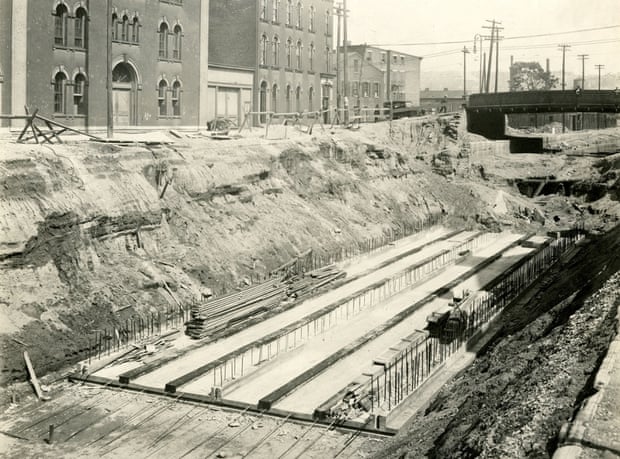 .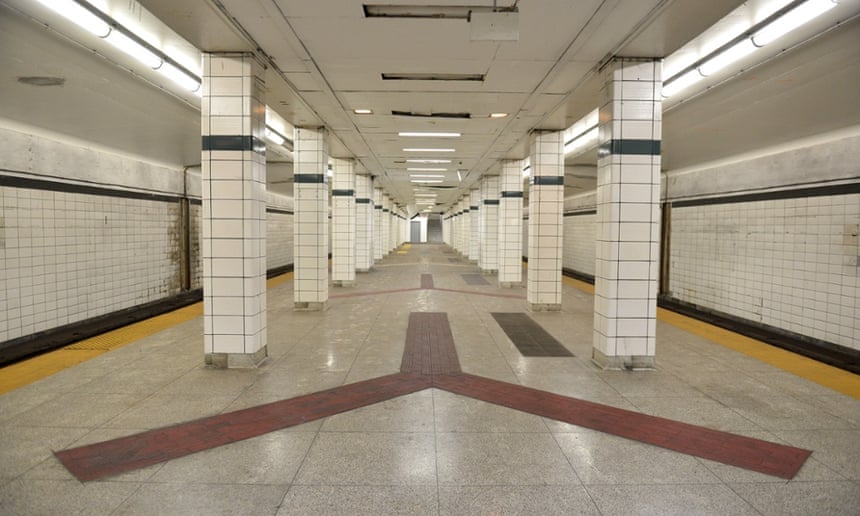 Lower Bay, a ghost station on Toronto's subway system, was closed in 1966. Now it is a popular location for parties during the city's film festival. Photograph: Carlos Osorio/Toronto Star/Getty Images
In other communist countries, stations have been abandoned for similar reasons. In the Beijing metro, Fushouling station appears to have been built for strategic military use, but was only used to transport rural children to school, running only two trains per day until its closure in 2007. North Korea, though, has Kwangmyong station, which was closed in 1995 because it is connected to the palace that was turned into a massive mausoleum for deceased supreme leader Kim Il-Sung. Naturally, few photos exist.
But further to the east, abandoned stations begin to look more like the west again. Tokyo is home to the abandoned Hakubusukan-Dobutsen station, which, like New York's City Hall station, was abandoned because it was incompatible with newer trains. Other stations have suffered the same fate as the Santiago metro: earthquake damage. Manseibashi was eventually closed after the connecting train station was levelled in the 1923 Great Kanto earthquake.
Ghost stations around the world make for haunting photographs – Bradley Garrett's photos are remarkable – not to mention great party venues. But do they have, um, a deeper meaning?
With the rise of Bus Rapid Transit (BRT) and the prohibitive expense of new subway construction (with the exception, it seems, of China), you could interpret ghost stations as a sign of the inherent inflexibility of subway systems. Or you could say they're a product of the boom and bust cycles to which all cities are prone, especially in the American rust belt: cities like Cleveland and Rochester simply aren't as robust today as they were a century ago.
But ghost stations have something to say that isn't just about transportation and the economy. Subways are important ways for citizens to get around, but they're also important as public spaces. Indeed, by providing an identifiable shared experience, subway systems are often important parts of the distinctive identities of cities like Paris, London and New York. Rob the stations of their healthy bloodflow of regular commuters and they will eventually haunt the city.
Maybe that's why a recent proposal to repurpose Paris's abandoned stations as public pools and auditoriums has gained traction. These stations are crying out to be used, not just as pop-up hipster hangouts, but important parts of the city's public sphere. Garrett, incidentally, generally opposes the repurposing of abandoned spaces. In an interview, he said: "Most urban explorers don't push for preservation because obviously when you 'preserve' something under a heritage regime, you lose a lot as well," and cited the example of the High Line in New York as a piece of abandoned infrastructure that was "ruined" by being transformed into public space.
Perhaps they are better off left to urban explorers. "Other than filling them in, you can't really demolish an underground ghost station," Tom Moran says. "So, while many surface buildings often meet the wrecking ball, ghost stations live on in a sort of weird afterlife, out of sight and out of mind (of most people, at least) but very much in existence.
"Cliched as it sounds," he goes on, "the fact that they generally don't go through the normal periodic upgrades that active stations experience makes them like time capsules." And the best way to ruin a time capsule is probably to open it.
-----------------------------------------------------------------
15 Fascinating Facts About The World's Metro Systems
(2013 September 23: http://www.buzzfeed.com/ashleyperez/15-fascinating-facts-about-the-worlds-metro-systems?utm_term=1fohdxf#17cmogn)
1. In Japan, there are special metro cars reserved especially for women.
en.wikipedia.org
Other countries including Egypt, India, Iran, Taiwan, Brazil, Mexico, Indonesia, the Philippines, Malaysia, and Dubai have also implemented women-only sections of transportation in order to combat issues of personal safety during travel.
2. It is illegal to eat, drink, or smoke on the Washington D.C. metro because of the extra costs associated with cleaning the carpet. 
fuckimlonely.blogspot.com
From the D.C. Metro website: "It is unlawful to eat, drink or smoke in the Metro system because of the labor and cost associated with maintaining the cleanliness of the transportation system as well as for safety reasons."
3. The Moscow metro is commonly regarded as having the most beautiful stations in the world.
Ian Walton / Getty
4. In fact, there is a train in Moscow called the "Aquarelle Train" that displays replicas of famous works of art for its passengers to enjoy.
Flickr: serger
5. Joseph Stalin reportedly built a secret metro system (known as "Metro-2") to be used by the military in times of duress during the Cold War.
en.wikipedia.org
6. The London Underground is the world's oldest metro system.
Hulton Archive / Getty
It was opened in 1863.
7. The New York City subway — with 468 stations — is the largest subway system by number of stations.
pio3 / Shutterstock.com
8. The Seoul metro is the world's largest in terms of passenger-route length*.
shardsofblue.com
*The New York City system is technically longer in terms of track length, but much of New York's track is unused for passenger travel — making Seoul's subway the largest in terms of passenger-track length.
9. All but six of the world's 51 busiest train stationsare located in Japan.
izismile.com
Tokyo is the busiest metro system with 3.1 billion annual passengers. Seoul is second busiest, with 2.51 billion passengers, and Beijing is third, with 2.46 billion. Source: New York City MTA "Worldwide Annual Subway Ridership"
10. The Arsenalna metro station in Kiev, Ukraine, is the world's deepest, at 346 feet (105.5 meters) underground.
© AMY / Wikimedia Commons / CC-BY-SA-3.0
11. The Copenhagen metro is a 24/7 driverless electric system with a sweet view.
edwardfpalm.blogspot.com
12. The word "metro" actually comes from an abbreviated form of the "Paris Metropolitan".
photoeverywhere.co.uk
"Métro is the abbreviated name of the company which originally operated most of the network: La Compagnie du chemin de fer métropolitain de Paris, shortened to "Le Métropolitain". That was quickly abbreviated to métro, which became a common word also used to designate all subway networks." 
13. The Hong Kong metro is equipped with 3G cell phone service, meaning passengers can access the internet even when underground.
Flickr: 48973657@N00
Wifi is also available throughout South Korea's metro systems and is currently in the process of being implemented in New York City.
14. There are currently only four cities on the African continent with metro lines.
Casablanca (pictured above), Cairo, Algiers, and Tunis.
15. The Pyongyang metro in North Korea costs 5 KP₩ (about $0.03) per ticket.
Flickr: 29075182@N08
Much like Russia, there are also reports of a secret secondary metro system located in Pyongyang.
-----------------------------------------------------------------
Art in Subway Stations Around the World
(2011 April 8: http://matadornetwork.com/nights/photo-gallery-art-in-subway-stations-around-the-world/)
Museums and galleries aren't the only places to see art in a city. There is art underground in many subway and metro systems around the world, and here are 15 works of art you can only find if you're using public transportation.
1 - Kaohsiung, Taiwan
Formosa Boulevard station with its huge Dome of Light by Narcissus Quagliata: "The dome is the world's largest public art installation made from individual pieces of colored glass....The dome tells the story of human life in four chronologically arranged themes: Water: The Womb of Life; Earth: Prosperity and Growth; Light: The Creative Spirit; and Fire: Destruction and Rebirth, with an overall message of love and tolerance." Photo: wisefly
2 - Moscow, Russia
Russia's Izmaylovo Park station is one of many in the Moscow metro with a Soviet theme sculpture. Photo:YellowSubmarine 1926
3 - Pyongyang, North Korea
A mosaic titled "The Great Leader Comrade Kim Il Sung Among Workers" in Puhung Station.Photo:adaptorplug
4 - Montreal, Canada
The large stained glass piece in the Place-Des-Arts metro station tells the story of the history of music in Montreal. Photo: J Luoh
5 - New York City
Art can be seen throughout New York City's subway stations. This one is at the Houston/Varick Street Station on the 1 Train. Photo: Adam Kuban
6 - Stockholm, Sweden
"Over 90 of the 100 subway stations in Stockholm have been decorated with sculptures, mosaics, paintings, installations, engravings and reliefs by over 150 artists." ("Art in the Subway") Here's Solna Centrum station. Photo: Jonathan Ryder Photography
7 - Santiago, Chile
Parque Bustamante station is home to Chile's longest mural: 223 meters long and 673 square feet of paint, created by Alejandro "Mono" Gonzalez. Photo: Arrancacorazones
8 - New York City
Over 100 individual miniature bronze sculptures make up Tom Otterness' Life Underground series, a 2001 public artwork series created for the 14th Street–Eighth Avenue New York City Subway station. The artist was inspired by political cartoonist Thomas Nast, and the project took 10 years. Photo: Micke Kazarnowicz
9 - Lisbon, Portugal
"The Running Woman" at the Rossio metro station, green line. Photo: arcticpenguin
10 - Moscow, Russia
In Revolution Square station: touching the nose of this dog is thought to bring good luck. That's why his nose is shiny; it's been touched and rubbed by so many people. Photo: rodc
11 - Munich, Germany
Georg-Brauchle Ring station on the U-bahn: "The artist Franz Ackermann created...'The Great Journey' from 400 metal panels - two huge colour screen walls....Each of the rectangles weighs 135 kg, each wall carries almost 30 tons." Photo: shlomp-a-plompa
12 - Singapore
Up close of an abstract mosaic mural at Ghaut MRT Station at the eastern end of Orchard Road. Photo:beggs
13 - Paris, France
Cluny La Sorbonne station is in the Latin Quarter. According to a sign in the station: "This ceiling bears the signatures of poets, writers, philosophers, artists, scientists, kings and French statesmen who for eight centuries have honored this district." Photo: L'Abominable Homme de Rires
14 - Buenos Aires, Argentina
Ceramic tiles show some of Argentina's history. Photo: bridchilds
15 - Tehran, Iran
Tiles in a metro station in Tehran from 2007. Photo: S.a.r.a
-----------------------------------------------------------------
Photos from the Days When Thousands of Cables Crowded the Skies
(2014 September 3: http://io9.com/photos-from-the-days-when-thousands-of-cables-crowded-t-1629961917)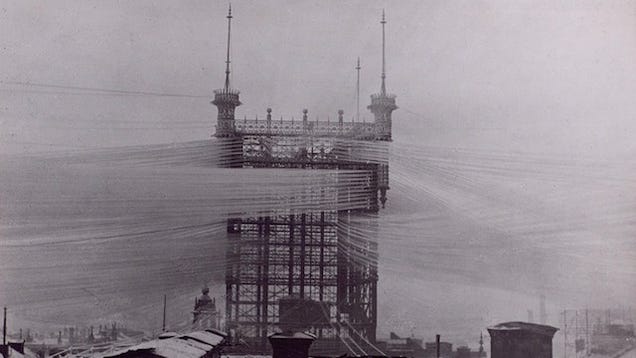 Before most cables ran underground, all electrical, telephone and telegraph wires were suspended from high poles, creating strange and crowded streetscapes. Here are some typical views of late-19th century Boston, New York, Stockholm, and other wire-filled cities.
The railway station at Pearl Street, Boston, Massachusetts, after a hurricane in January 1881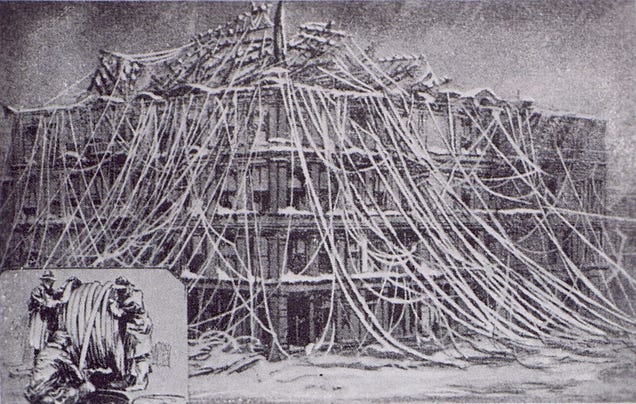 (via Tekniska museet)
Wires over New York, 1887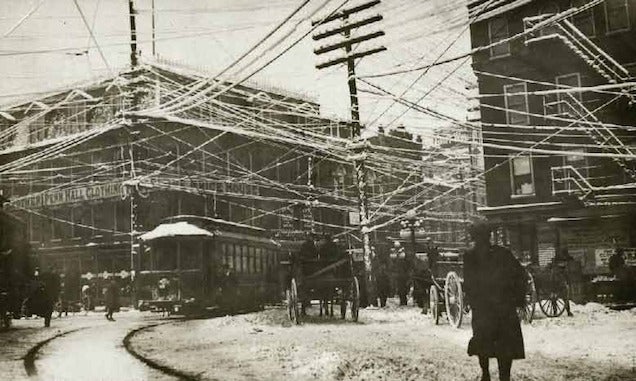 (via Retronaut)
A telephone tower in Stockholm, Sweden, with 5000 connected lines. It was used between 1887 and 1913, but the tower stood there until 1953, when it fell down after a fire.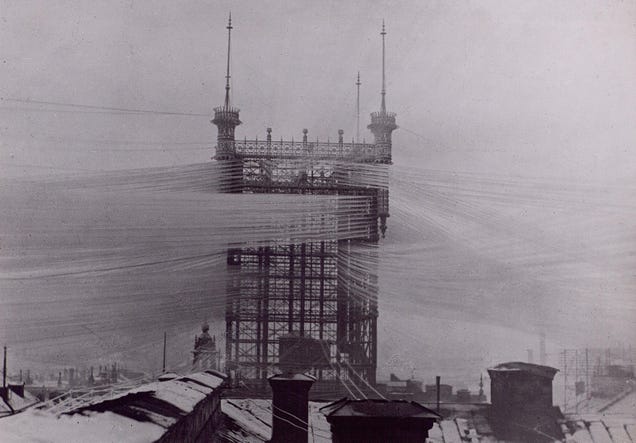 (via Tekniska museet)
An 1880s postcard of Broadway, New York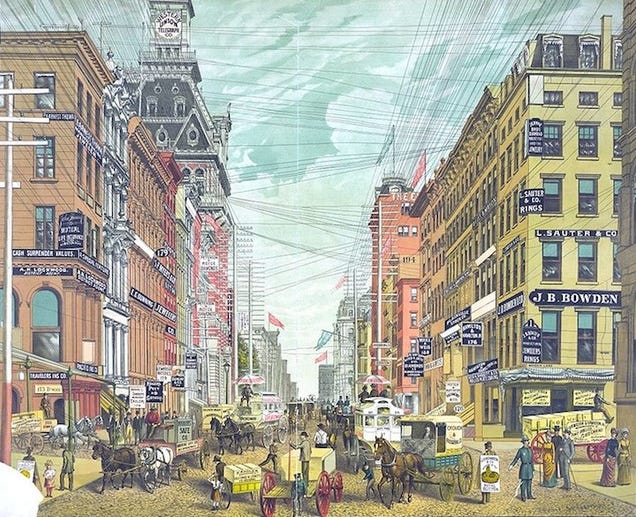 (via Ephemeral New York)
A New York street during the blizzard of 1888, which occurred between 12th and 14th of March and paralyzed the city with 40" of snow and winds up to 60 mph, creating some 50 ft high drifts.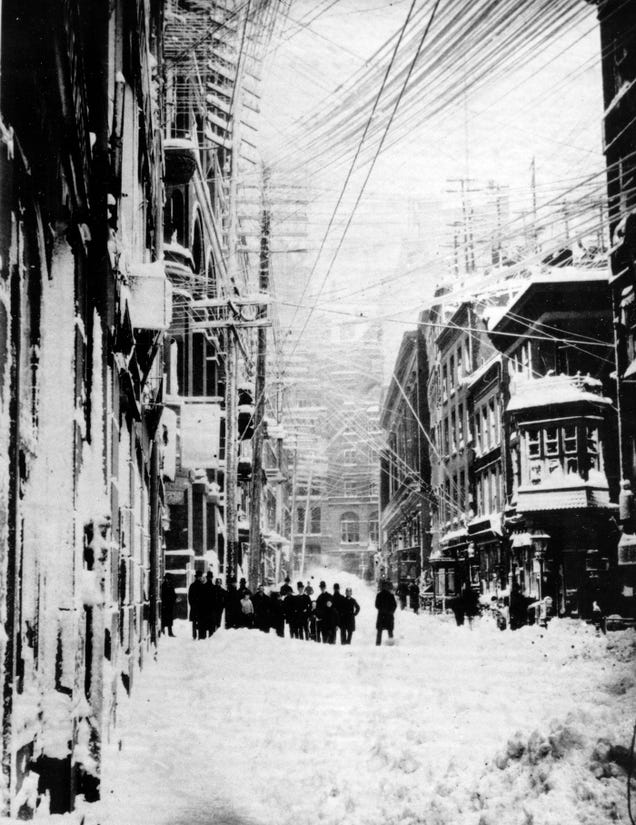 (Photo by AP)
On a telegraph building in Stockholm, Sweden, 1895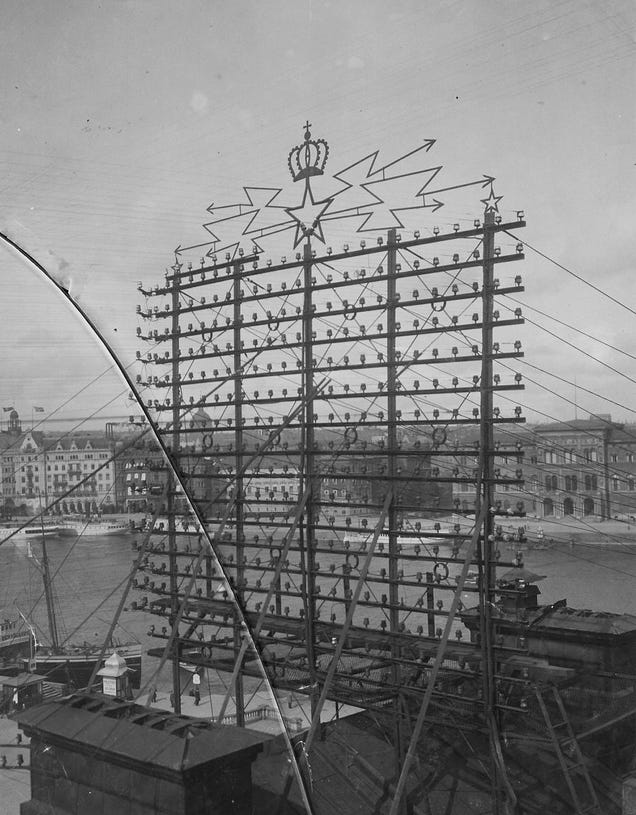 (via Tekniska museet)
70-foot poles were part of the scenery in the early days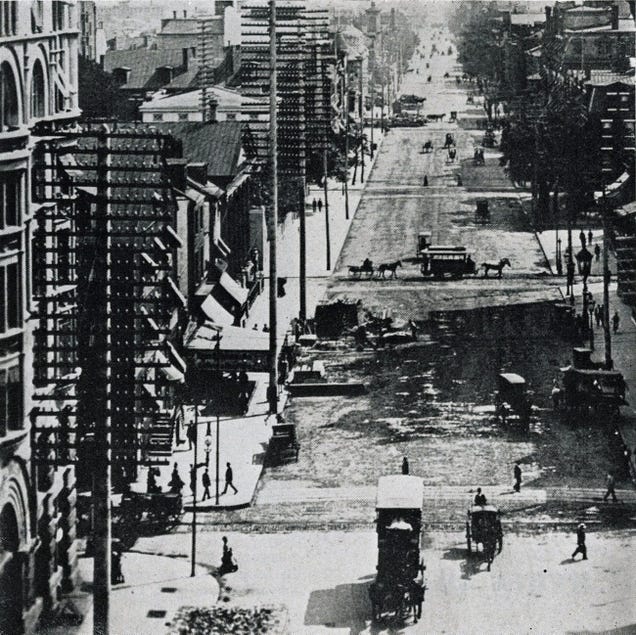 (via Classic Rotary Phones)
Dozens of telephone wires on roofs, Stockholm, Sweden, between 1890 and 1900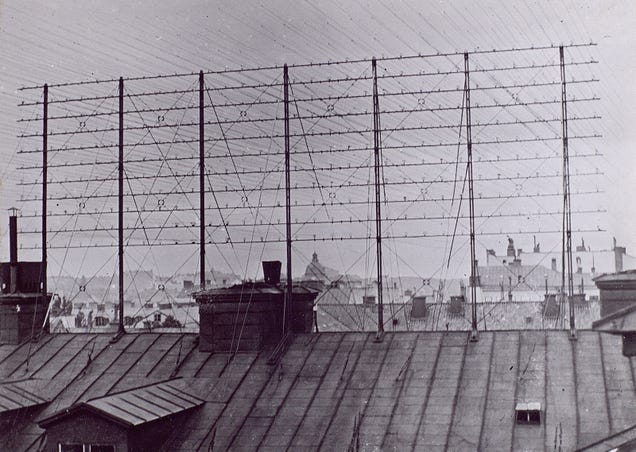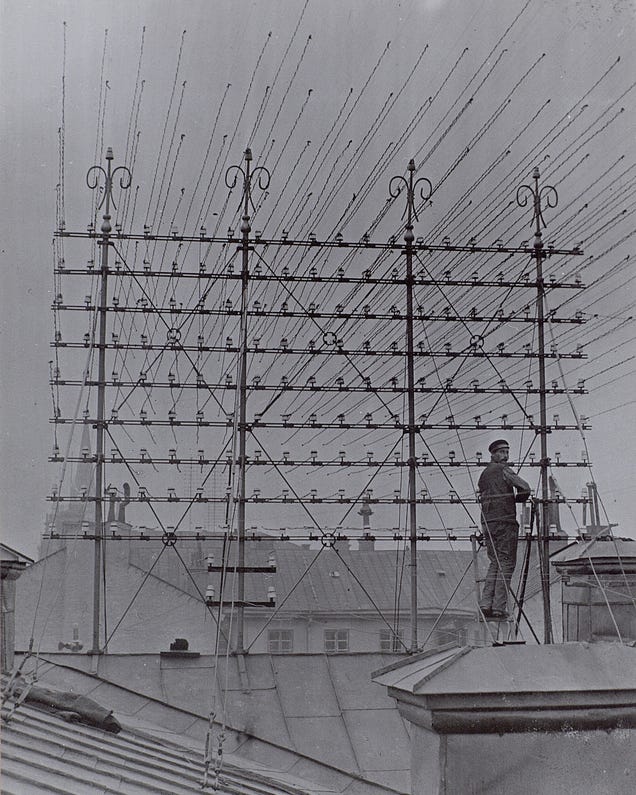 (via Tekniska museet)
Telephone pole line construction in New York, c. 1903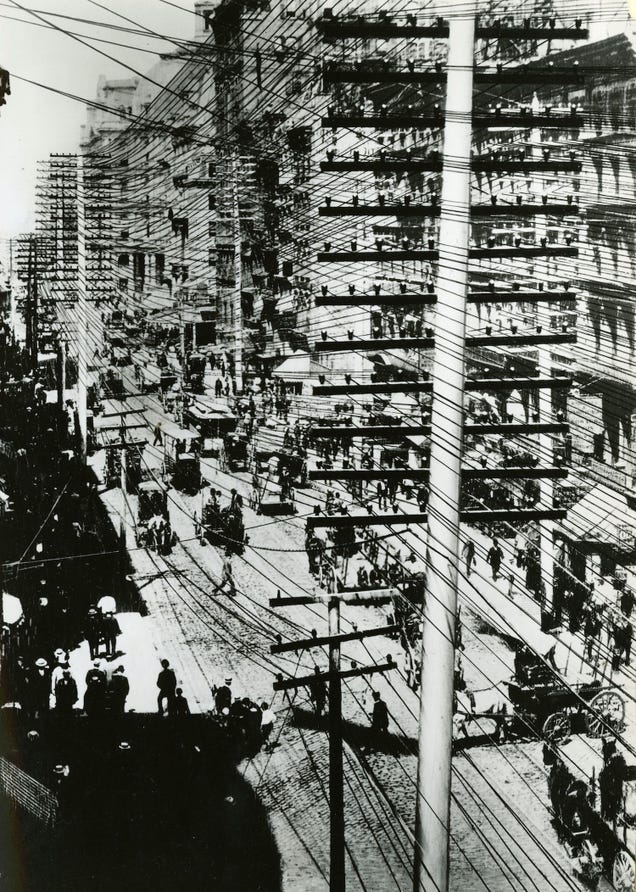 (via IEEE Global History Network)
Pratt, Kansas, 1911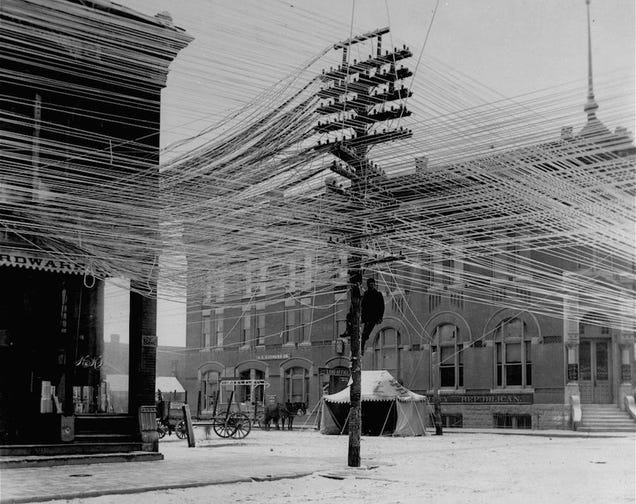 (via This Is True)
Power lines and supporting structure in a lane west of Main Street in Vancouver, British Columbia, March 1914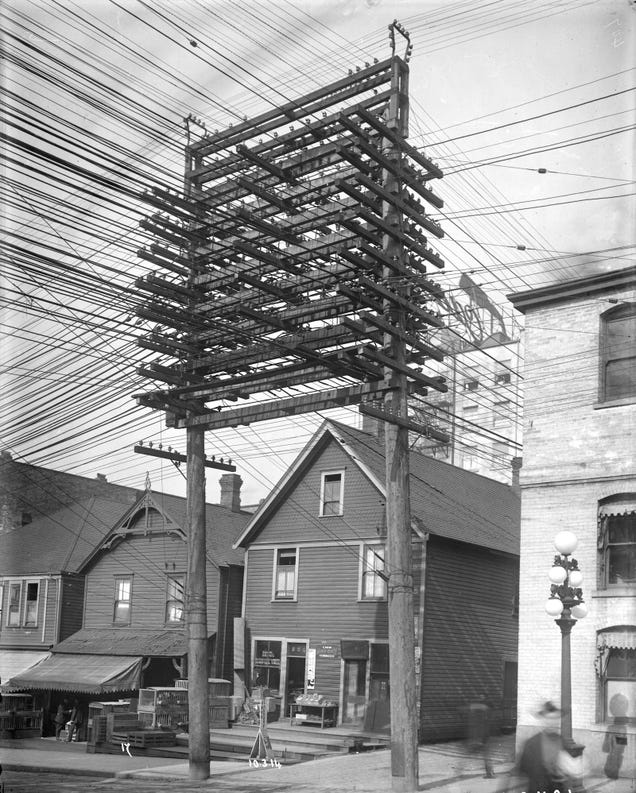 (via Vanalogue)
Looking north up Albion from 36th Street in Seattle, Washington, 1952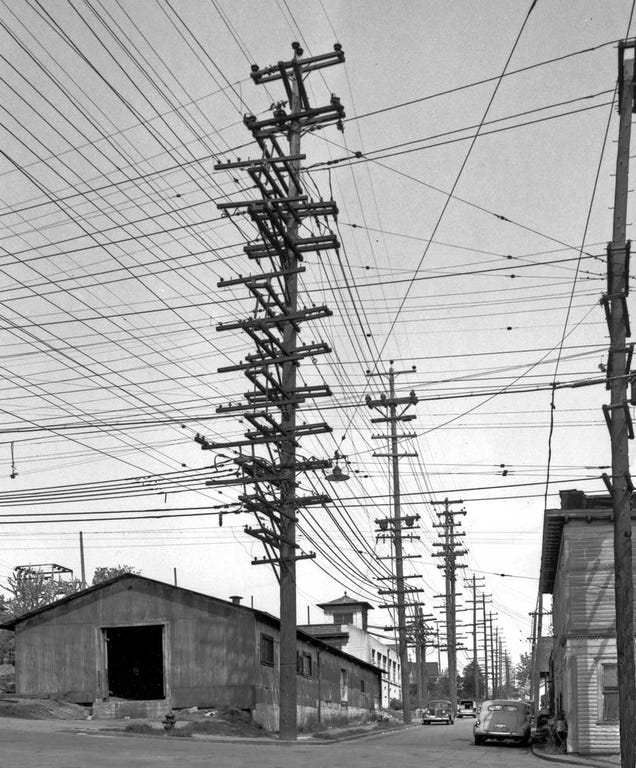 (via Paul Dorpat)
-----------------------------------------------------------------
The secrets of underground London
(2014 August 19: http://www.telegraph.co.uk/culture/photography/11036968/The-secrets-of-underground-London.html)
A vast Crossrail tunnel near Barnsbury, north London
In an anonymous backstreet, near Chancery Lane station in central London, there are two black doors. On one of them, a sign says "fire exit do not obstruct"; another barks "no parking 24 hour access". There's no indication of what the building contains, just a grubby "no 39" that looks as if it might date from the Thirties or Forties. "If you open those doors you'll find a spiral staircase that goes down 30 metres," Oxford academic and urban explorer Dr Bradley L Garrett tells me. "At the bottom of that is what was a secret telephone exchange. All of the old switchboards are still in there." He pauses. "It took us years to figure out how to get in there. So much time and effort. We had to come back again and again."
If Garrett has brought me here, to the once-secret entrance to the former Kingsway Telephone Exchange, in an attempt to demonstrate the allure of urban exploration, the not-quite-legal pastime that obsesses him, then he's been successful. Suddenly, the building's calculated attempts at being a smudge in the urban landscape that you'd hurry past on the way to work are having the opposite effect. The desire to try to find a way to sneak in and explore what lies beneath is almost overwhelming.
The subterranean structure was built in 1942 as an 8,000-capacity bomb shelter and consists of a pair of vast tunnels that run parallel to the Central Line. It was never used as a shelter, instead becoming the secret telephone exchange in 1954. Eisenhower and Khrushchev's hotline ran through it; the place was staffed at full power and in lockdown throughout the Cuban missile crisis. In the years immediately following the Second World War, though, MI6's mysterious Inter Services Research Bureau was in residence, its name as deliberately and impenetrably vague as the building its members worked beneath.
 "They created an underground city down there," says Garrett. "There's what used to be the deepest bar in the UK. There are pictures on the walls of these bucolic landscapes, as if you're looking out of a window." I wonder how he finally managed to get in. "That's the puzzle!" he cries. "That's the game! It's so much fun."
The beautiful enamelled switchgear in the Kingsway Telephone Exchange
With his casual clothes and jaw-length, dye-tinted hair, it's not immediately obvious upon meeting Garrett that he's a geographer from the University of Oxford. You'd be less surprised to hear that he's a former member of the once notorious and now defunct London Consolidation Crew (LCC), a team of urban explorers whose missions into Victorian sewers, mothballed "ghost" Tube stations and even the still-in-construction Crossrail tunnels are documented in a new coffee table book. As desperate as I am to dash to Homebase for a crowbar, Garrett says that damaging doors is not an infiltration method endorsed by his people. "We've got various tactics for sneaking into places," he says. Although he's unwilling to reveal them, he says that "sometimes it's best to be really ninja about it, come at 2am, sneak in, make sure you're not seen. At other times you want to be as visible as possible. You put on a hi-viz vest and a hard hat and pretend you're working."
Such mischief led to unexpectedly dramatic events in August 2012,when Garrett was arrested. He'd been in Cambodia working on a research project about domestic violence. His 747 had just landed at Heathrow's Terminal Three when it was boarded by a squad from the British Transport Police. They approached his seat, grabbed his arms, led him through passport control in handcuffs and locked him in a cell. As this was happening, "they were taking a battering ram to my front door and confiscating all my property".
Garrett was one of 10 who were charged, eight months later, with troublingly vague offences. "The law in England is that trespass is not a criminal offence unless someone asks you to leave their property and you refuse," he says. "So they were trumped-up charges – conspiracy to commit criminal damage at properties belonging to companies and persons unknown over a four-year period." Nearly two years of stress finally came to an end in May, with a conditional discharge, following an uproar by fellow academics (Oxford geographer Danny Dorling told newspapers his case raised "serious questions around academic freedom.") "If I get caught doing anything remotely criminal," says Garrett, "I can get brought up on those charges again."
Urban adventurers explore the River Fleet, the largest of London's underground rivers
Born in Los Angeles, 33-year-old Garrett trained to be an archaeologist but became disillusioned with its scrupulous and conservative nature. "I had this kind of Indiana Jones idea that I was going to be out in the deserts or mountains or whatever," he says. "When I got to London and found urban explorers, I realised they were doing what I always wished archaeology was. The wilderness I was trying to find was here."
Garrett was studying the LCC for a geography PhD funded by the University of London, but he became almost completely subsumed into the loosely organised group, most of whom were aged between 25 and 32 and included a social worker, a petrol station manager, and IT specialist and a London bus driver. They experienced a burst of publicity in April 2012 when photos of their various expeditions climbing The Shard skyscraper were picked up by the international media. (His fascinating book which documents their adventures, Explore Everything: Place-Hacking the City was published last year by Verso.)
One of the LCC's proudest achievements is their "cracking" of every one of London's ghost Tube stations, including the almost mythical British Museum. "I think only two people have seen it," he says. What's it like? "You can't ask me. I ran like hell!" The LCC's attempt on this, the most dangerous of the stations to get to, took place one Christmas. They'd walked down two-and-a-half miles of live tracks to get to Holborn and had to dart through some manned stations without being spotted by security. "It was pretty hairy. We had to get across platforms that each had about 12-15 CCTV cameras. You're just praying no one's watching. If they are, you're done, stuck in the tunnel. We ran across the platform at King's Cross and got back into the tunnels and carried on south. We thought we were alright but then the lights came on. We panicked. That's it. We're busted. I thought cops were in the surrounding buildings. I ran for Aldwych and popped out of a door on The Strand. Amazingly, no one was there."
Stalactites fringe the metal rings of the now defunct Northern City Line
A more successful expedition brought him inside a set of war rooms used by Winston Churchill during the Second World War. It can be found at Down Street, a tube station on the Piccadilly Line, between Green Park and Hyde Park Corner, that closed in 1932. "You're standing there and it's never been opened since the war," he says. "How many people have stood in that room since Churchill? You get this visceral connection to history. I mean, his bathtub was there too. Churchill's bathtub!"
By now, Garrett has led me to the outside of a shuttered section of Smithfield meat market where he tries to explain the appeal of what he sometimes calls place-hacking. "You enter an abandoned building, which is interesting enough," he says. "You see all the wrought-iron Victorian structures and things. But then you just start pulling apart these layers and you're going deeper and deeper and deeper and, all of a sudden, there are Tube trains flying by. You're like, 'How did I get here?' It's such an incredible feeling. You're seeing the city like it's a puzzle and putting the pieces of that puzzle together, connecting things." He taps his foot on a manhole. "Just seeing a lid like this. It's so exciting, sitting around, waiting for 2am when you're going to come back and open it. You have no idea what you're going to find."
It's a shame that the law caught up with the LCC, because thanks to the risks that Garrett and his cohorts have taken, the rest of us get to break through the façade of places to find their secret workings; the veins, chambers and organs of the great city-machine that seems too colossal and powerful. And there are plenty more locations as yet uncracked. "There are military citadels, like the telephone exchange, that are still in use," he says. "There are tunnel systems that connect buildings of power in the city. And we know where those tunnels are."
For Garrett and his kind, the point of all this goes beyond simple boyish fun. "The more that cities feel constricted and the more we feel like there are things we can't do and places we can't see, the more urban exploration has that capacity to give people hope." He pauses. "That sounds really bombastic. But it's hope that there are still adventures to be found, still undiscovered stuff in the world. And you don't have to go to Tibet to find it. You just have to start opening manhole covers."
-----------------------------------------------------------------
Massive Underground City Discovered Beneath House
(2014 August 14: http://truthfrequencyradio.com/massive-underground-city-discovered-beneath-house/) 
Mind-boggling, breathtaking, and incredible is the massive ancient underground city discovered beneath a house that was being renovated in Turkey, and is still to this day being further uncovered. 
Derinkuyu Underground City is an ancient multi-level underground city in the Derinkuyu district in Nevşehir Province, Turkey. It is on the road between Nevşehir and Niğde, at a distance of 29 km from Nevşehir. With its thirteen floors extending to a depth of approximately 85 m, it was large enough to shelter well over 20,000 men, women, and children. This would be a massive undertaking even with our technology today! How on earth did they do this?
It is the largest excavated underground city in Turkey and is part of a network of several underground complexes found across Cappadocia. It also has individual quarters, shops, communal rooms, tombs, arsenals, livestock, and escape routes. There's even a school, complete with a study room.
It begs the question: "Why would people want to live 'that' deep underground?" Was it used as a giant bunker to protect its inhabitants from nuclear war or some other type of disaster?  Was it built by the Nephilim and Rephaim for their 'future' bloodlines to survive the end times disasters, which is the 'Great and Terrible' Day of the Lord?
15 And the kings of the earth, the great men, the rich men, the commanders, the mighty men, every slave and every free man, hid themselves in the caves and in the rocks of the mountains, 16 and said to the mountains and rocks, "Fall on us and hide us from the face of Him who sits on the throne and from the wrath of the Lamb! 17 For the great day of His wrath has come, and who is able to stand?"  —Revelation 6:15-17
Isaiah 2:10-21  10 They will hide in caves in the rocky hills or dig holes in the ground to try to escape from the Lord's anger and to hide from his power and glory! 11 A day is coming when human pride will be ended and human arrogance destroyed. Then the Lord alone will be exalted. 12 On that day the Lord Almighty will humble everyone who is powerful, everyone who is proud and conceited. 13 He will destroy the tall cedars of Lebanon and all the oaks in the land of Bashan. 14 He will level the high mountains and hills, 15 every high tower, and the walls of every fortress. 16 He will sink even the largest and most beautiful ships. 17 Human pride will be ended, and human arrogance will be destroyed. Idols will completely disappear, and the Lord alone will be exalted on that day. 19People will hide in caves in the rocky hills or dig holes in the ground to try to escape from the Lord's anger and to hide from his power and glory, when he comes to shake the earth. 20 When that day comes, they will throw away the gold and silver idols they have made, and abandon them to the moles and the bats. 21 When the Lord comes to shake the earth, people will hide in holes and caves in the rocky hills to try to escape from his anger and to hide from his power and glory.22 Put no more confidence in mortals. What are they worth?
And, in the book of Revelation 6 12-17:
12 I looked when He opened the sixth seal, and behold, there was a great earthquake; and the sun became black as sackcloth of hair, and the moon became like blood. 13 And the stars of heaven fell to the earth, as a fig tree drops its late figs when it is shaken by a mighty wind. 14 Then the sky receded as a scroll when it is rolled up, and every mountain and island was moved out of its place. 15 And the kings of the earth, the great men, the rich men, the commanders, the mighty men, every slave and every free man, hid themselves in the caves and in the rocks of the mountains, 16 and said to the mountains and rocks, "Fall on us and hide us from the face of Him who sits on the throne and from the wrath of the Lamb! 17 For the great day of His wrath has come, and who is able to stand?"
It certainly is plausible since the enemy, Satan, and the kingdom of hell have known for decades what the Word of God says, and what is soon to come. Furthermore, it would explain why the United Nations (UNESCO) has taken ownership of just about every archaeological find, including this one.  Please remember, the United Nations as well as people in our government (the elite) are luciferian, Freemason, Illuminati who are the nephilim bloodline (serpent seed).  (The kings of the earth, the great men, the rich men, the mighty men…the elite)
Could it be possible that the Nephilim bloodlines have long prepared themselves for the coming 'Great and Terrible Day of the Lord'?
(Video link: https://www.youtube.com/watch?v=0qe4LGepivQ )
-----------------------------------------------------------------
The Underground City Beneath the U.S Capitol and Library of Congress
2014 July 25 http://untappedcities.com/2014/07/25/the-underground-city-beneath-the-u-s-capitol-and-library-of-congress/
The enclosed train that runs between Dirksen and Hart. Image via Below the Capitol.
It's obvious that urbanists have a fascination with the subterranean, whether of the macabre nature like the catacombs of the world, or of the abandoned, or simply being able to eat and drink below the city surface. Sometimes though, we fail to think of underground fascinations of the more mundane kind.
While the freemasons certainly played a role in the construction of Washington D.C., the persisting rumor that the street grid and other buildings are embedded with masonic code is likely myth. Nonetheless, it doesn't feel surprising that networks of underground tunnels (and even a subway just for those on Capitol Hill) were built beneath the city. More unique than the existence of the tunnels is how they're programmed. In Washington D.C., they're like underground cities, with all the things you would need from the outside world, moved indoors. Hallways become streets, marked by the newspaper boxes you would normally find at your corner.
Here's a roundup of some of the notable underground corridors beneath Capitol Hill:
US Capitol Subway System
Capitol Hill to Russell Senate Office building subway. Image from Public Domain, taken by Architect of the Capitol
The original line connected the Capitol Building to Russell Senate Office, which is just about 1000 feet apart. Built in 1912, just four years after the launch of the New York City subway, the US Capitol Subway System has been dubbed the "shortest and most exclusive railway in the world," because it's only accessible to Congressional members and approved guests. You can also get a ride during an official tour of the Capitol.
Monorail cars that were in operation 1915 to 1961. The original coach was of wicker.Image via Below the Capitol.
The system was expanded a few times: a monorail in 1960 for the Dirksen Senate Office Building, a two-car subway in 1965 between the Rayburn House Office Building and the Capitol, and the Dirksen monorail which extended to the Hart Senate Office Building (replaced by an automatic train in 1993).
Library of Congress Tunnels
The Library of Congress is made up of three buildings. The Thomas Jefferson Building is the iconic Neoclassical building with the Grand Hall and domed reading room. But many of the departments and offices are in the adjoining James Madison Memorial Building and John Adams Building, which are connected by tunnels.
The first thing you'll notice as you make your way into these tunnels is that the agency offices of the Architect of the Capitol are located here–including the mason shop, carpentry shop and machine rooms, where some of the 2,300 employees who maintain the Capitol buildings and ground work.
There's a little bodega in this end, which sells everything from Naked Juices to USB drives:
There's also a clearly delineated division between visitors and workers, as the tunnel is divided into pedestrians and those moving equipment:
The tunnel in the cellar of the Thomas Jefferson Building becomes the ground floor of the James Madison Building due to the incline of the land, and here you'll find an interior Subway and Dunkin Donuts (replete with nondescript bad art on the walls), labeled like they're offices.
Grab a newspaper before hitting up Dunkin' Donuts:
Tunnel to the Adams Building:
The Cannon Tunnel
The Cannon Tunnel, often traversed by Congressmen and women, connects the Cannon House Office Building with the U.S. Capitol. This tunnel showcases the high school artwork of the annual Congressional Art Competition, which has recognized and encouraged artistic talent in the nation and in each congressional district since 1982. You can also see the winners online here.
Like the tunnels under the Library of Congress, there are lots of amenities along the way including a shoe shine/cobbler, post office, credit union and cafeteria.
There are more tunnels and a veritable maze inside the newer Capitol Visitor Center, where you'll probably find lost Congressmen and women searching for meeting rooms. So next time you're in D.C., don't just stop and stare at the architecture above ground!
-----------------------------------------------------------------
6 unbelievable underground homes
(article quoted from: http://www.cbsnews.com/media/6-unbelievable-underground-homes/)
You don't have to be a Hobbit or a super villain to live underground. In fact, the U.S. Department of Energy says earth-sheltered houses require less outside maintenance, are sometimes less expensive to insure and can have lower energy costs in environments with extreme temperatures. Some architects like the challenges underground spaces pose and see them as great opportunities for innovative design. Other homeowners, like millionaire John Z. Blazevich, like the idea of building below the surface because there is a lot more space. There are even people who enjoy recycling abandoned spaces, like public restrooms and missile bases, and turning them into livable dwellings.
Take a look at these six unique subterranean properties that may inspire you to start digging.
1--Above land, the Hacienda de la Paz looks like a typical Rolling Hills, California, mansion. But hidden underground, there are five additional levels of lavish living space.
Photo credit: Mark Singer Photography
John Z. Blazevich originally built and owned the estate, having earned his millions as CEO of shrimp importer Viva Food Group. He wanted a lot of features in the home, and thanks to his unique, hilly lot and local laws banning tall structures, Blazevich was able to go underground to get the 50,000 square feet he wanted. He worked with famed Spanish curator Rafael Manzano Martos on the luxury design, which features an indoor tennis court, 10,000-square-foot Turkish bath, ballroom, nine bedrooms, 25 bathrooms, secret passages and pine flooring made from trees that fell 300 years earlier.
This unique property has been on the market since last year, and could be yours for a whopping $53 million.
Photo credit: Mark Singer Photography
2-- Architect Laura Clark is known, affectionately, as "Toilet Girl."
It all started when she moved to London in 2005 and noticed an abandoned, 600-square-foot space underground that used to house two public restrooms near the Crystal Palace railway station. More than six years, lots of council meetings and a lot of hard renovation work later, Clark and her husband moved in.
Photo credit: Laura Clark
The cozy one-bedroom home cost about $90,000 to renovate, plus $32,000 for the property. Clark, who is a semi-professional mixed martial artist, did most of the labor herself. Smell was a bit of a problem at first, so she and her crew jet-washed the space after demolition and poured concrete over the original sewage points, eliminating that issue. Its sleek and modern design has a surprising amount of natural light coming from ceiling windows and a small terrace outside the bedroom.
Photo credit: Laura Clark
3-- When Edward and Dianna Peden bought this former Atlas E missile base 25 miles west of Topeka, Kansas, it was flooded with more than 1 million gallons of water. Before that, it protected an intercontinental ballistic missile with a warhead. It was a major fixer-upper. Now the couple is dedicated to cultivating an "eclectic spirit of peace" where the large weapon was once stored.
Photo credit: Edward Peden
"What used to be the missile control room is now our living room," Edward said.
The 6,500-square-foot, four-bedroom Subterra property has a great room with hand drums and a stage, a hot tub and sauna, two observation towers and a ceremonial stone circle. The Pedens didn't stop with a single, personal project. Their company, 20th Century Castles, has located, acquired and negotiated the sale of 57 former missile sites and communication bunkers since 1995. At MissileBases.com and SubterraCastle.com, they show off photos of their extreme home renovation to prove what is possible.
Photo credit: Edward Peden
4-- Dune House in Atlantic Beach, Florida, is a modernist landmark. Architect William Morgan, who designed the home to be used as a vacation rental, started at Harvard as a student of Bauhaus-founder Walter Gropius in the 1950s. He is known for several notable buildings, including the Florida State Museum of Natural History and the Florida Hilltop House, which is also underground. Dune House has received attention from architecture enthusiasts ever since it was built in 1975, including Miami financial executive William Drew, who bought the home from Morgan for $900,000 in 2012.
Photo credit: Prudential Real Estate
The earth-covered duplex was constructed using the same methods used to design and build swimming pools. Morgan created a concrete shell that could be supported by a native sand dune. The mirrored shape of the home looks a lot like a seashell you might pick up on the beach. Each of the two individual apartments are 750-square-feet and have a sunken living area, sleeping loft and curved staircase.
Photo credit: Prudential Real Estate
5-- People local to Druidston Haven, in Pembrokeshire, Wales, call this underground dwelling the Teletubby House. When you look at its bright colors and playful design, it's easy to see why.
Photo credit: Simon Mortimer
The home's actual name is Malator. It was designed by the defunct architectural firm Future Systems -- now known as Amanda Levete Architects -- and built in 1998. The avant-garde company originally wanted to construct the house on top of the land in Pembrokeshire Coast National Park. When they were refused, they went into the ground instead. Malator's see-through façade reveals its single living area, which features a circular fireplace in the center. It also provides a panoramic view of St. Bride's Bay.
Photo credit: David Price
6-- Villa P was built to complement naturally-occurring stone walls and sloping fields north of Bressanone, Italy. The design, created by Italian architecture company Bergmeister Wolf Architekten, is a vineyard farmstead where planting stops just feet from the chimney.
Photo credit: Lukas Schaller
The home's staggered structure is made of stone and concrete, with a wooden fence lining a long terrace. Inside, modern furniture made from natural materials gives the space an organic but polished feel. The bathroom, which is completely covered in bright yellow tiles, is probably Villa P's boldest detail. It has contrasting black fixtures, wood paneling and lots of natural light.
Photo credit: Lukas Schaller
-----------------------------------------------------------------
Seoul City Gov't Designates 2 Underground Waterways as Historical Monuments
(article quoted from: http://koreabizwire.com/seoul-city-govt-designates-2-underground-waterways-as-historical-monuments/14767)
The two subterranean rivers for drainage purposes were built before and after 1910 by employing modern technology based on existing subsoil water streams. (image: Seoul Metropolitan City Government)
SEOUL, July 14 (Korea Bizwire) — The Seoul Metropolitan City Government said on July 13 that it has designated two underground waterways newly discovered in downtown Seoul as the city's monuments (Nos. 38 and 39). The two subterranean rivers for drainage purposes were built before and after 1910 by employing modern technology based on existing subsoil water streams.
The 190.9-meter waterway underneath Seoul Plaza (Seoul City Monument No. 38) right in front of the Seoul City Hall is made of red bricks. The sewer system underneath Namdaemun Road consists of 461.3 meters of a red brick structure and 27.3 meters of a quarried stone section. The structures have still been in use for draining rainwater and domestic sewage nearby.
The waterways are in a variety of forms and shapes, including circular- and ellipse-shaped brick structures. Bricks along the corridors are finished with mortar so that the water can flow without leak. The points at which water merges are built in curved shapes so that the water can flow smoothly. In corners of the corridors, wedge-shaped bricks are used to maximize the width of the waterway.
As most sections of the waterways would be invisible to the public, the Seoul city government will create a one-third miniature model of the portion where water merges and put it on display in Seoul Plaza.
Lee Jin-yong, Seoul city government's manager in charge of water recycling, said, "The early 20th century underground waterways designated as the city's monuments are important historically. We will keep working with experts to find more waterways within our jurisdiction and designate as historical monuments."
-----------------------------------------------------------------
A closer look at London Underground
(article quoted from: http://premierconstructionnews.com/2014/07/07/a-closer-look-at-london-underground/ )
London Underground, commonly referred to as the Tube, opened in 1863 and is the world's oldest – and largest – below surface Metro network.
Handling around 3.5 million passenger journeys per day the Tube has 11 lines covering 402km and serving 270 stations; at peak times there are more than 525 trains speeding around the city.
Transport for London is keen to update the Tube's equipment as a lot of it is decades old. The need to invest in the future is vital in order to allow the service to continue working smoothly and so TfL are carrying out a multi-billion pound programme that will provide 30% more capacity across the network.
The programme includes the introduction of new trains, signalling and track, as well as undertaking the reconstruction of the busiest and most complex stations so services can run faster, more reliably and more frequently.
The projects that have already been completed include new air-conditioned trains on the Metropolitan and Hammersmith & City lines and the redevelopment of King's Cross St. Pancras. Other schemes involved improving the signalling on the Jubilee line, resulting in more frequent trains, as well as upgrading track and signaling on the Victoria line and adding new trains to the service.
Transport for London leave the day to day running of the Tube down to their subsidiary company London Underground (LU) Ltd. LU is responsible for all aspects of the Tube's operations including running the trains, stations and control centres, making sure the Tube is safe and secure, and collecting and protecting fares revenue. Alongside these responsibilities LU deals with the maintenance and renewal of most of the infrastructure used by the Tube.
TfL have made a number of commitments to Tube travellers including a new 24-hour Tube service at weekends from 2015. The Night Tube network will be an additional service to the existing 24-hour and night bus services and therefore will provide passengers with an extensive and integrated service throughout Friday and Saturday nights. Initially the service will run on the Northern, Piccadilly, Victoria, Central and Jubilee lines.
TFL will employ more staff in ticket halls and on gatelines in order to help customers with services and ticketing from the first train to the last. Improved ticket machines will be implemented and the numbers will be increased in order to make them easier and faster to use. Another improvement that is part of the scheme includes the installation of better technology in stations, as well as providing customer service staff with the latest in mobile technology which will also be available to help customers in ticket hall.
Transport for London launched the Travel Better London campaign in a bid to encourage passengers to be more aware and considerate of each other when travelling around the capital. TFL brought London poets to the transport network, to add a bit more excitement to everyone's journeys and celebrate the city's thriving poetry community on National Poetry Day last year.
-----------------------------------------------------------------
UNDERGROUND ART: Stockholm's Best Kept Secret
(article quoted from the author Shing Lin Yoong, The Culture Map)
Never have I been to a city where I wanted to spend more time underground than above ground. But that was before I visited Stockholm.
Built on 14 islands and connected by 57 bridges, Stockholm is surrounded by water and takes the title of Northern Europe's most elegant city. So with this much outdoor beauty, you may be wondering why I chose to swooped down every underground I could find.
Two Words: Underground Art
It's mystifying how these crazy undergrounds never made it to my attention before they did. I had read my fair share of articles on Stockholm but it wasn't until I started looking for offbeat things to do and see in Sweden's capital city that the lid to this feast of underground art finally popped open.
And once the lid was opened, I couldn't keep it shut. I spent hours hammering the keys of my laptop in search of more pictures and more information, and made notes of all the ones which really stood out. There are 100 stations in Stockholm and over 90 of them display art in various forms.
How had I not seen these before? I kept muttering to myself as I gazed over them with an expression of delight in finding something that fills me with wonder does. Surely they deserve a song and dance? That's why these undergrounds are Stockholm's best kept secret.
Here are my favourites:
Kungsträdgården
A harlequin design sweeps through the cave-like underground of Kundsträdgården. Painted by Ulrik Samuelson in 1977, you will also find archaeological remains from the old city which was torn down in the 50s and 60s in favour of modern architecture. I can't help but feel, along with many I'm sure, that this was a regrettable attack on the city's history, but thankfully, Gamla Stan, the Old Town, survives.
T-Centralen
There are many stops at T-Centralen as this is where all trains connect and interchange. This wing of this station links to Kundsträdgården so it's a good idea to see this one after paying a visit to the aforementioned. The figures represent the people who work on the undergrounds, and were painted by Swedish artist, Per Olof Ultvedt.
Solna Centrum
Out of all the stations this one is definitely the most photographed, and looking like a stairway to hell, it's no surprise why.
Stadion
As I stepped off the train onto the platform at Stadion, I felt like the pot of gold at the end of the rainbow had just been found – by me!
Hötorget
If you were to find one of these stations inside a contemporary art space, it would be this one. Neon strips of white light fill the ceiling but the rest of the underground is washed down with mint green tiles. Perhaps it's just my over-active imagination but this station has the potential to be very creepy at night. Imagine it when no one is there but you, the lights are flickering, a gentle breeze swarms past and a stranger is walking towards you…
Fridhemsplan
I'm not sure what the colour green represents in this context but Fridhemsplan station has a naval theme running throughout the caves, including a big installation of a ship, anchor and compass.
Östermalmstorg
Love, peace, and the women's rights movement make up the powerful theme of Östermalmstorg station. Sweden has for a long time been associated with open-mindedness and equal rights and this station represents this state of mind brilliantly. These etches are the work of Swedish artist and sculptor, Siri Derkert, who died in 1973.
Tekniska Högskolan
This station just looks really cool. You will find geometric shapes etched into the floor and a glass pentagonal cube.
Västra Skogen
The perfect place to be for people with a tile fetish!
These were just a few of my favourites stations. I didn't have time to explore all 100, but it's a very good reason to go back. If someone were to ask me about Stockholm, I wouldn't be able to talk about it without mentioning what goes on below street level…
The secret is out.
Author: Shing Lin Yoong
Wesbite: www.theculturemap.com
(full link to view more images: http://www.theepochtimes.com/n3/744313-underground-art-stockholms-best-kept-secret/?photo=3)
-----------------------------------------------------------------
Underground Budapest: Caverns, churches and Cold War bunkers
By Jennifer Walker, for CNN (http://www.cnn.com/2014/06/24/travel/budapest-underground/)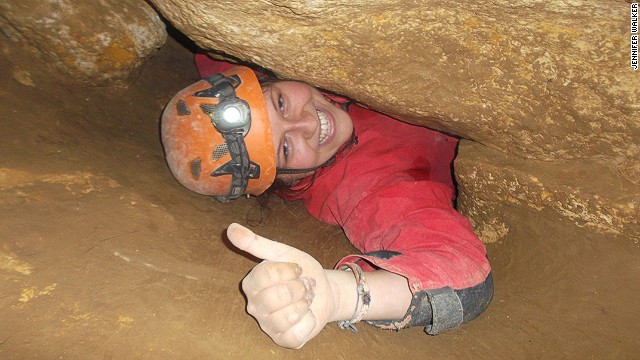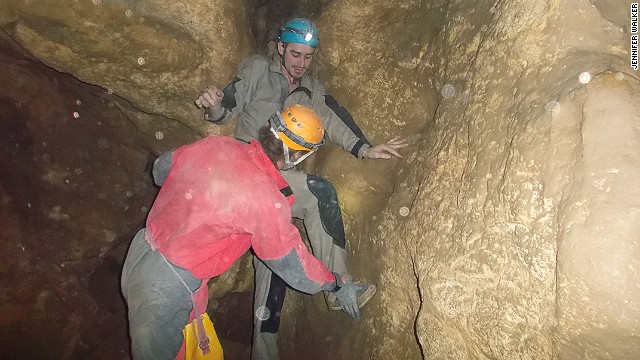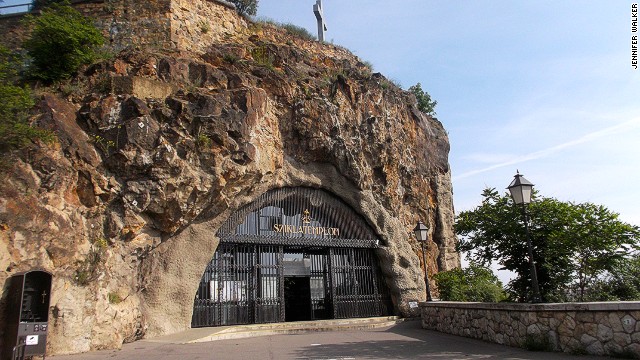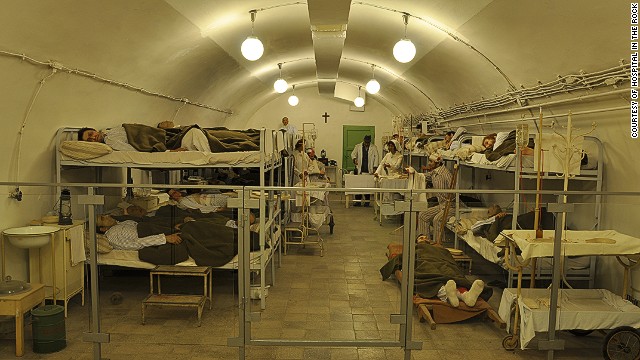 (CNN) -- The Hapsburg Palaces, romantic banks of the Danube and historic spas draw the crowds to Budapest, but there's a whole world underground within the city limits. Literally underground. While one half of the city, Pest, is flat, Buda's curvy hills are rich with secret labyrinths, hidden bunkers and caving adventures. There are up to 200 caves in total. Budapest's subterranean world owes its debt to the city's spas, or rather their water, which has carved out a network of caverns. Here are some of the highlights.
Budapest's natural caves
One of the best things about Budapest is its proximity to nature. Less than half an hour's bus ride from downtown, where the city's outer II District turns into lush hills, there are a number of natural caves worth visiting. Beautiful crystal formations deck out the caves under Szemlo Hill, At nearby Palvolgy, the caves are more familiar, with stalactites and stalagmites.
Palvolgyi Cave, Szepvolgyi ut 162, Budapest
Szemlo Hill Caves, Pusztaszeri ut 35, Budapest (websites in Hungarian)
MORE: Hungary's Wild East: Exotic cowboys, exotic animals
Spelunking beneath the city
Adventurous cavers who enjoy getting dirty, wriggling through tight holes and scaling slippery walls are in luck.
The Palvolgy caves actually make up the longest cave network in Hungary, running from a valley housing the showpiece caves into Budapest's Matyas Hill. Descending a metal ladder into a pit 10 meters (33 feet) below, tours emerge into a room known as the "chapel" that was once used as an underground place of worship. The three-hour tour gets more difficult as the air gets thinner and the passages tighter -- but the humor and encouragement of the guide makes up for the physical discomforts. Tours can be booked with an English-speaking guide for groups of more than four. Ticket price includes a guide, all necessary equipment and entrance to the caves.
Palvolgyi Caving Tours, Szepvolgyi ut 162, Budapest
The Hospital in the Rock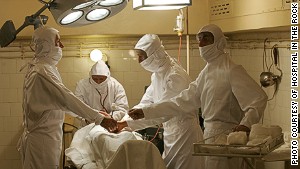 Castle Hill, the mound overlooking the Danube that shoulders Budapest's sprawling palace complex, also holds a few subterranean treasures. Unlike the city's other caves, these passageways have been in use for centuries -- they tell a series of gruesome tales from the city's history. Located on the side of the hill, on the road winding up to the castle, the Hospital in the Rock isn't technically part of the original cave system, although it connects up with it. Once an underground hospital used in World War II, most notably during the siege of Budapest, it eventually became a secret nuclear bunker during the Cold War. The museum can be visited only on a guided tour, which runs on the hour in both English and Hungarian. Tours take visitors through tunnels into the old hospital and end up in the radiation contamination room, where they get to play with an air-raid siren. Creepy wax figures lend an air of authenticity to the horrors of the conditions experienced in wartime, when the hospital, built for only 60-70 patients, took in more than 600 wounded.
Hospital in the Rock, Lovas ut 4/C, Budapest
MORE: Caffeine kicks: Budapest's battling coffee shops
Dracula's prison and the Labyrinth
The Labyrinth is part of the natural cave system under Castle Hill. It's shown signs of being inhabited as far back as prehistoric times, with people living there as late as the 11th and 12th centuries. Caves here have since functioned as wine cellars and masonry mines, but come wrapped in curious myths. The Turks used them for military purposes in the 16th century, but archeological evidence also hints at an underground harem. One of the Labyrinth's headline attractions is Vlad Tepes, known better as Vlad the Impaler, or Dracula, who spent a spell down here as a prisoner.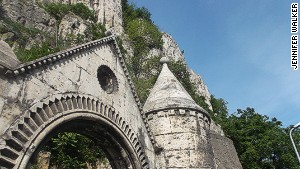 Gellert Hill's church cave.
Visiting the Labyrinth is a campy experience filled with waxworks dressed in old opera costumes. An overworked smoke machine and spooky soundtrack pump out into a damp corner known as Dracula's Chamber. Bonus creepiness: After 6 p.m., visitors are guided around the dark caves by lantern and have to figure their own way out in the dark.
Labirintus, Uri utca. 9, Budapest, or Lovas ut. 4/a, Budapest
The Cave Church of Gellert Hill
Gellert Hill is a landmark in Budapest. Rising above the Danube, it overlooks the whole city and guards its own cave network. Unlike the caves beneath the city's other hills, most of these are closed off. The main cave open to the public, St. Ivan's, houses a small church with an entrance facing one of Budapest's most famous spas, the Gellert Baths. Use of the cave as a church is fairly new.
Pauline Monks occupied it in the 1920s but it was sealed up for decades after the Soviet Red Army captured Budapest in 1945.
Cave Church, Szent Gellert rakpart 1, Budapest (website in Hungarian)
-----------------------------------------------------------------
Britain's Nuke-Proof Underground City
(article quoted from: http://www.thedailybeast.com/articles/2014/06/26/britain-s-nuke-proof-underground-city0.html)
Jamie Wiseman/Associated/REX USA
As the world held its breath during the Cold War, England built a top-secret underground city to save its government in case of nuclear attack. For half a century, "Burlington" lay ready.
In case of nuclear disaster: stay calm and carry on…living underground.
In 1956, the British government began building a sprawling subterranean city two hours from London underneath the ancient, 13,000-person town of Corsham. If the nation was struck with a nuclear bomb, 4,000 government employees would be shuttled via a secret train line from downtown London to a blast-and-radiation-proof bunker code-named "Burlington". From these emergency government war headquarters, as they were designated, Britain could resume governing while the world above burned.
The secret word for this evacuation was "orangeade," a 1962 copy of the Cabinet Office's War Book revealed in 2011. The code would also be told to security agents guarding the site. "Advance parties going to Burlington would be kept to a minimum and every effort would be made to maintain the cover story," the document explained. From Burlington, the assorted agencies could plan their next moves. "The chiefs of staff will be ready to make recommendations on the use of the nuclear retaliatory forces based in the UK."
After its completion in 1961, the accommodations constructed 100-feet underground would not have made for an entirely claustrophobic existence. The 35-acre bunker had two canteens, four residential areas, a bakery, hospital, library, and a VIP suite, according to a map of the facility. There even wasrumored to be a pub called Rose and Crown that was modeled after Whitehall Street's famed and favored Red Lion bar.
With these amenities, inhabitants could live for three months without having to emerge into the chaos above ground, the Ministry of Defense predicted. Burlington was replete with 60 miles of roads—labeled with American street names like Main Street and First Avenue—that were navigable by battery-powered buggies. It had an underground water treatment plant, a power station, Britain's second-largest telephone exchange (with updated directories maintained until the late '80s), and a system of pneumatic tubes that hurled messages throughout the complex. The climate was set to a comfortable 68 degrees.
A BBC studio was constructed to be manned by 11 employees who, at the hour of attack, would stop normal programming and switch to "Wartime Broadcasting Service". The station's staff would assist then-Prime Minister Harold MacMillan in addressing the country. MacMillan and his family would be brought in by helicopter to the complex, where they had the only en-suite bathroom in their whitewashed room.
The only potential hiccup in this grand plan was that very few people knew of the bunker's existence. Not the BBC employees pre-selected for the station, nor the majority of the government staffers who'd be living there.
The site of Burlington, or Site 3, as it later came to be known, was a former stone quarry that the government began converting into an underground factory in the 1940s. At the end of World War II, the factory closed, and the space was used for storage. As the government began concocting this worst-case scenario plan, it kept an eye out for a secure location and soon decided to use the former factory as an alternate seat of power in case of war. The area was already filling with military personnel: census records show that between 1931 and 1951, the population nearly tripled due to a large army base.
As the Cold War died down and nuclear destruction never came to fruition, the underground complex slowly slipped into disrepair. After a quarter-century of disuse, part of the bunker was converted into a "nuclear reporting cell," again a response hub in case of an attack, which held a staff of 50 to 100, but was never actually put to use. In 1991, following the fall of the Soviet Union, when the entire site was decommissioned after the government voted against a £40 million site upgrade.
"For nearly half a century, it was ready to serve Britain at a moment's notice, waiting at attention like a dutiful agent of the crown."
Long speculated to be a UFO research center, Burlington has been the subject of rampant conspiracies for decades. Subterranean explorers puzzled over the mysterious red door that cut off access to underground tunnels leading to the bunker. But the true nature of its existence wasn't revealed until 2004, when it was declassified by the government. The fully stocked bunker was still intact—with stores of linens, "Top Secret" stationary, pots and pans, outdated technology, and toilet paper—and a staff of four maintenance men.
In 2005, it was put up for sale and received a number of eager bidders, but was taken off the market for reasons unknown. Today, the mysterious world underneath the sleepy town of Corsham still hasn't been opened to the public and continues to breed mystery.
Online, commenters seeking a way in or claiming to have visited the site propagate stories about the Cold War bunker. A lucky few have gotten to explore it for themselves. "Plates & cutlery all laid out make this area look like it's ready to be used at the drop of a hat, or as if previous inhabitants just upped and left," a group of urban explorers writes of a 2010 visit. Another, a member of the Royal Air Force, remembers visiting in 2006 and recalls "the supply store was like going back in a time capsule." The whole place, he says, was "like a James Bond film set."
Unlike Bond, constantly thwarting Soviet villains, Burlington never got a chance to flex its muscle. But for nearly half a century, it was ready to serve Britain at a moment's notice, waiting at attention like a dutiful agent of the crown.
-----------------------------------------------------------------